Troubleshooting - Repair - Replacement - New Installation
Tankless - Hybrid and Traditional Water Heaters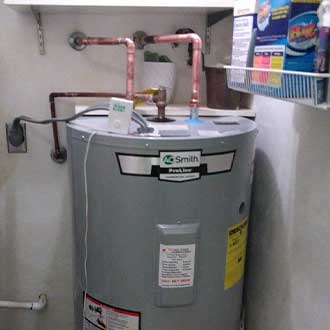 Call us today for all your water heater needs. From troubleshooting problems to new installations, your family will enjoy reliable hot water when it needs it. Today's water heaters are bigger and more energy efficient. Ask our experts to help choose the right water heater.
Is it time for a new water heater? How do you know you need a new water heater? These are just a few of the questions you may have. We are here to help you make the best choice for you home. Depending on the number of bathrooms and your personal preferences, the right size water heater is available to suit your needs.
If your water heater is leaking water or making noises, there are obvious signs of trouble. If you don't have water heater problems now, and think you may be due for a new one, you are probably right.
Let us perform an inspection on your water heater and help you determine the best next step. What ever you do, don't try to install a water heater yourself or ask a non professional to do it. Water heaters should only be installed and repaired by professionals. Improper installation will cost you more in the long run and may also be dangerous.
Don't take chances when it comes to the safety and comfort of your family. We are professional, licensed Fairhope water heater experts. Our plumbers are highly experienced and equipped to handle your water heater problems and emergencies. From water heater repair and replacement to new water heater installation - we do it all!
Residential water heaters
Commercial water heaters
Water heater replacement
Water heater leaking
Water heater repair
Water heater installation
Water heater troubleshooting
Electric water heaters
Gas water heaters
Hot water supply lines
Cold water supply lines
Thermostats and controls
For professional, licensed Fairhope water heater replacement and water heater repair call Fairhope Plumbing today.