From sewer line replacement to grinder pump installation and repair, we offer complete sewer system solutions.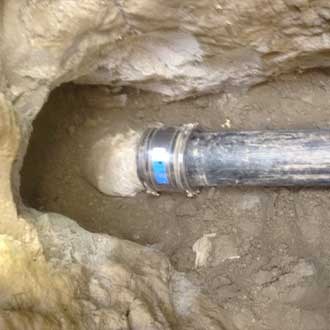 Your sewer lines are a critical part of your overall plumbing system. The maintenance, inspection and repair of your sewer pipes and system should only be performed by a professional sewer contractor or licensed plumbing professional.
If you suspect you have a sewer problem, give us a call and know we will be able to properly diagnose and most often pinpoint the problem area with a sewer camera inspection. being able to see exactly where and what is causing the problem can save you time and money.
It could be a simple clogged line, but if there are other issues such as roots or a sewer line break, it's best to know what the problem is up front. Call us today!
Here are just some of the sewer services and related sewer problems we solve:
Residential sewer repair
Lift station installation and repair
Grinder pump replacement
Sewage ejector pump services
Commercial sewer repair
Sewer line repair
Broken sewer lines
Cracked sewer
Sewer roots
Sewer line replacement
Interior pipes
Exterior pipes
Repiping
New sewer line installation
Homeowner Plumbing Tip: Fairhope Alabama homeowners as in most communities in the USA are responsible for the portion of the sewer line that comes into their home and on their property. With that in mind, having a licensed sewer contractor or licensed plumber that can perform a camera inspection is a good idea prior to buying a home considering the potential costs of a major sewer lime problem.
As a full-service Fairhope sewer repair expert we can diagnose, pinpoint and repair your sewer problems - fast, efficient, and affordable.
For professional, licensed Fairhope sewer repair services call Fairhope Plumbing today. Our licensed plumbers are ready to solve your Fairhope sewer problems.